Some extracts from the story about Ted Ciamillo attempt to cross the Atlantic Ocean in a Pedal-Powered Submarine that he designed and built himself.
—–
Some men mark their 40th birthday by buying a flashy new car, changing jobs or finally getting started on that novel. Ted Ciamillo decided he would pedal across the Atlantic in a one-man submarine he has designed and built himself.
It may sound like a crazy stunt dreamed up by an adrenalin junkie, but the plan, dubbed the "Subhuman project", has attracted serious attention from marine biologists. That's because the sub, when it takes to the seas later this year, could for the first time allow them to explore the upper layers of the ocean silently and unobtrusively, revealing marine life as it has never been seen before.
—–
Ciamillo designed his mini-submarine around a larger version of the Lunocet. The body of the vessel is built from lightweight yet tough materials: a stainless steel frame, a polycarbonate shell and a propulsion system made from aluminium and titanium. It will operate as a "wet" sub: instead of having a pressurised shell filled with air, it will be full of water at all times. Buoyancy is provided by PVC foam packed into the shell and from air bladders that can be filled or emptied to keep the vessel at the desired depth. At 1.2 metres at its widest point by 5 metres long it is not exactly roomy, but neither is it claustrophobic. "Being weightless, with all the windows, you feel like you have plenty of room," Ciamillo says.
Ciamillo will wear a wetsuit and breathe using scuba gear or a specially adapted snorkel. A major challenge will be keeping cool, since the average water temperature will be around 30 °C. One plan is to use a reflective coating to prevent the sun shining in through the top of the sub and heating the water inside.
—–
While Ciamillo freely admits that his project began as a way to get publicity for the Lunocet, it has also attracted the attention of marine researchers, excited by the wealth of data he could gather for them on his journey. The surface of the sea is a surprisingly little-known part of the biosphere, considering it covers two-thirds of the planet, says marine ecologist Cindy Van Dover of the Duke Marine Laboratory in Beaufort, North Carolina. "Current technologies and sampling methods allow us to study surface waters more as series of discrete points rather than as an environment and habitat," she says. "Near-surface waters are nearly as impenetrable as the depths of the ocean."
—–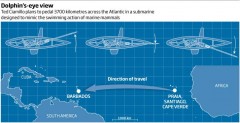 Before any of this can happen, though, the sub has to complete a programme of rigorous test runs in the 4000-cubic-metre lagoon that Ciamillo had dug outside his workshop in Georgia. So far it has proved buoyant and manoeuvrable, and the team are now tweaking the propulsion mechanism. That done, a series of two and three-day trial expeditions in the Florida Keys in the next few months will give both sub and pilot a thorough shakedown before the final launch from Cape Verde, slated for November.
Whether or not Ciamillo makes it to Barbados, the project will provide an invaluable service to marine science, Van Dover says. "So long as the vehicle doesn't become prey itself, the sensors it carries and the observer inside have a real possibility of changing the way textbooks describe the upper layers of the water column."
—–
To read the full story of Ted's amazing project please visit BigBlueTech.net
Atlantic Ocean
,
Barbados
,
Beaufort - North Carolina
,
BigBlueTech.net
,
Cape Verde
,
Cindy Van Dover
,
Duke Marine Laboratory
,
marine ecologist
,
mini-submarine
,
Ocean Rowing
,
Pedal-Powered Submarine
,
Sporting Events
,
Subhuman project
,
Ted Ciamillo