Words by the "Lone Danger" Nick Demma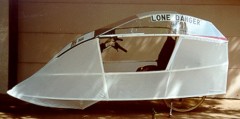 I will proceed with this book review by presenting a totally unorganized mess of comments. There is a section on drafting where the relative coefficient of drag is presented for both the leading and the following cars as a function of the distance between them. First we consider two poorly streamlined cars that have coefficients of drag (Cd) of .47. As the distance between them decreases from a separation that is twice the car length, the Cd of the leading car falls to 80% of the value that it was without the other car. The Cd of the following car is about 85% at the same initial separation, but it rises to more than 100% when the separation is a bit more than half car length and then it falls to 40% as the distance approaches zero.
Even tailgating idiots do not benefit much from drafting because you have to get extremely close to get the large benefit. Bike riders in a pace line learn to ride with only a couple inches of clearance between the tires and this is why they do this. Now for the shocking news. If we use streamliners that have Cds of only .17, the Cds are 100% for the leading car and 80% for the following car when the separation is 2 car lengths. When the separation is 70% of one car length, the Cd of the leading car has fallen to about 70% and the Cd of the following car has risen to 100%. As the separation approaches zero, the Cd of the leading car falls to 18% (!!!, yes, eighteen) and the Cd of the following car rises to 130%.
———–
Please click thought to wisil.recumbents.com to read the full text of this review. It's a hundred dollar book so well worth reading the review before spending that amount of dosh.
Aerodynamics of Road Vehicles
,
book review
,
Books
,
coefficient of drag
,
Cycling
,
High Speed
,
High Speed Cycling
,
Lone Danger
,
Nick Demma
,
Tech Info