Ashima Disc Rotor, Calipers, Levels and Pads.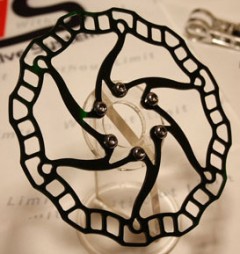 Products:
Airotor Disc Rotors – 6 SCREW in 140mm, 160mm, 180mm and 203mm
APVS "Powervalve" brakes 4 Pot Calipers and Levels
PCB, or "PanCake Brake Calipers and Levels
SOS pad (Sintered – Organic – Sintered)
Forged/CNCed V Brakes and Levers
More info from Ashima.com.tw
Airotor Disc Rotors with 6 SCREW
Sizes and Weight
140m  = 68 grams
160mm = 85 grams
180mm = 112 grams
203mm = 136 grams
Prices:
140m and 160mm  = £24.99
180mm – 203mm = £29.99
Available from Zyro.co.uk
APVS-Powervalve-Brakes
PCB PanCake Brake
Forged CNCed V-Brakes and Lever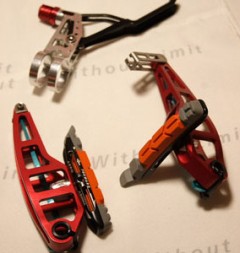 SOS Pads from £12.99
Available from Zyro.co.uk
Review of all these products from Bikemagic.com by Mike Davis
You may not have heard of Ashima. The brake and brake parts manufacturer has only been with us for three years – it's based in Taiwan but was founded by a Brit. Impressively (or perhaps startlingly), Ashima makes over a million brake pads a month and supplies various aftermarket and OE brands worldwide. For 2009 it's got a whole load of new stuff coming out, and is pushing beyond its core business of brake pads.
The Airotor is already on the market (although coloured versions are new for 2009). It's claimed to be the lightest stainless steel rotor available – a 203mm one comes in at 136g and a 140mm one just 68g. It's not hard to see how that weight has been achieved – the Airotors are mainly hole. Ashima makes big claims for performance, wear and heat dissipation, although for some riders we suspect that ultra-low weight and funky looks may be enough on their own…
The first of Ashima's two new disc brake systems is the APVS "Powervalve" brakes. The most obvious design feature is the Cybermanesque external pipework, but the really clever stuff is hidden inside. Despite looking like twin-piston brakes, the APVS actually has four. Uniquely, the smaller pairs are inside the larger ones – on each side of the caliper there are coaxial 14 and 22mm pistons.
more from this review at Bikemagic.com
Airotor Disc Rotor
,
APVS Powervalve brakes 4 Pot Calipers
,
Ashima
,
Bikemagic.com
,
Braking Parts
,
Manufacturers
,
Organic Pads
,
PanCake Brake Calipers
,
PCB
,
Products
,
Sintered Pads
,
SOS pad
,
V Brakes
,
Zyro.co.uk