Juicy 7 Specs
Intended use: Cross Country – Trail – All-Mountain – Freeride – Downhill
Finish: Graphite Gray
Special features: Pad Contact-Point Adjustment – Tri-Align™ Caliper Positioning System™ – Power Reserve Geometry™ – Ambidextrous – Tool-free pad replacement – Split Clamp/MatchMaker™ compatible – Drip-free bleeding – Indexed reach adjustment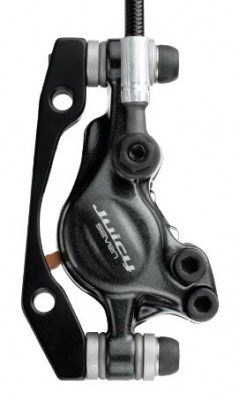 Rotor sizes: G2 Clean Sweep in 160, 185 and 203
Fluid: DOT 5.1
Weight: 395 grams with Carbon blade (160mm rotor; front post mount)
Prices:
Available from EvansCycles.com
Review by SRAM
Any way you look at it, the Juicy Seven has always been hard to beat. It set the bar for hydraulic brake performance years ago, and it never stops pleasing riders from every discipline in the sport. Honestly, it makes you wonder what else you could want in a brake.
Pad Contact-Point Adjustment
Setting the exact point where your fingers are when the brakes grip is huge. It means you choose the best-feeling position for your hand, and that means predictable performance from the brake.
Indexed reach adjustment
Our reach adjuster does just what you'd expect, only in typical Avid fashion, it does it better. It's indexed, so one click moves the lever 1mm.
Ambidextrous
,
Avid
,
Avid Juicy Disc Brake Systems
,
Braking Parts
,
EvansCycles.com
,
Indexed reach adjustment
,
Manufacturers
,
Power Reserve Geometry
,
Products
,
Tri-Align Caliper Positioning System
,
Wonder Clamp