Juicy Ultimate Specs
Intended use: Lightweight Cross Country
Finish: Stealth Black – Racy White – RockShox SID Blue
Unique to Juicy Ultimate: Magnesium lever body – Forged Monoblok™ caliper body
Special features: Carbon fiber lever blade – Pad Contact-Point Adjustment – Tri-Align™ Caliper Positioning System™ – Power Reserve Geometry – Ambidextrous – Split Clamp/Matchmaker™ compatible – Drip-free bleeding – Indexed reach adjustment – Alloy Backed Pads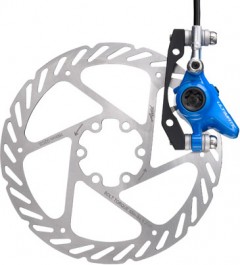 Rotor sizes: G2 Clean Sweep in 160, 185 and 203
Fluid: DOT 5.1
Sizes:
Front: 160mm or 185mm
Rear: 140mm, 160mm or 185mm
Weight: 333 grams with Carbon blade (160mm rotor; front post mount)
Prices: £154.99
Available from RutlandCycling.com
Review by SRAM
The Juicy Ultimate is the epitome of sleek, exotic and feather-light design. Its magnesium lever body and 6k thermoset carbon fiber lever blade reduce steering weight, and just simply feel fast. The Monoblok™ caliper makes the system stiff, responsive and clean. And because the Ultimate incorporates all of Avid's proprietary technologies, like Power Reserve Geometry™ and Pad Contact-Point Adjustment, you can be sure that your brakes will never limit your performance. That's why it's a favorite of the cross country pros around the world … a hands-down essential for the discriminating XC brake-o-philes.
The Ultimate Matching Set
For the first time ever, Ultimates are now available in Stealth Black, Racy White and RockShox® SID® blue. One look at your new matching brakes and the competition may just hand you the trophy.
Ambidextrous
,
Avid
,
Avid Juicy Disc Brake Systems
,
Braking Parts
,
Forged Monoblok Caliper
,
Indexed reach adjustment
,
Magnesium Lever
,
Manufacturers
,
Power Reserve Geometry
,
Products
,
RutlandCycling.com
,
Tri-Align Caliper Positioning System
,
Wonder Clamp