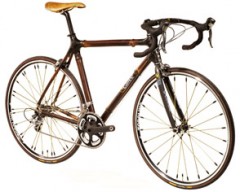 In the mid-nineties, flooring manufacturers became the first modern companies to take advantage of bamboo, Asians have used it in construction for centuries, but manufacturers are also using it to make bikes.
This is not just a cool bike. It is appropriate for everyday use and for racing. The vibration damping is a performance advantage on longer rides. Each frame is built to order and every frame is a unique. Tubes are selected for the weight of the rider. The geometry of the frame can be any of our usual geometries: Pro, Tri or Cross. Custom frames can also be made. Mountain Bike frames are now available.
Details. The bike is made from Bamboo that has been smoked and heat treated to prevent splitting. Lugs are made of hemp fiber, for the all-natural look. The chainstays are available in carbon fiber for extra stiffness in the drivetrain.
Finish. We coat the bamboo with a satin polyurethane to seal it up.
Awards. Calfee Bamboo bikes have won awards for Best Road Bike, Best Off-Road Bike and Peoples' Choice Award at the North American Handmade Bicycle Show.
A Calfee Bamboo bike won 1st place in the open class at the Great Western Bicycle Rally's Concourse d'Elegance show.
If there were an award for "Bicycle with lowest carbon footprint" (least amount of carbon dioxide emissions in the production of the frame), this frame would win, hands down.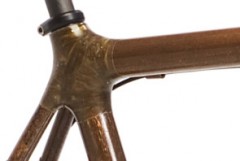 Bamboo Bike Features:
Amazing Vibration Damping – Even better than Carbon fiber!
High performance frame. Weighs from 4 to 6 pounds but has good stiffness.
Crash tolerant. Bamboo is a lot of tougher than most people realize.
10 year warranty
Looks cool! A work of art!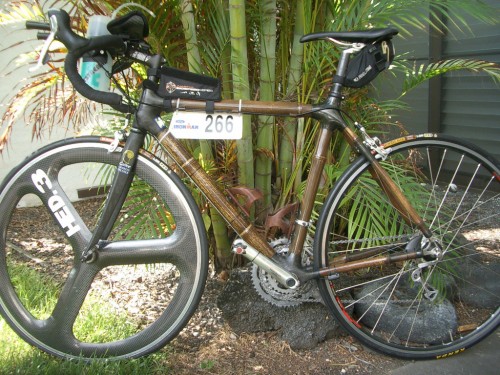 As featured in Outside Magazine
Price: from $1,895 (£1,195)
Available from CalfeeDesign.com
Bikes
,
Calfee Bamboo bikes
,
CalfeeDesign.com
,
High performance frame
,
Manufacturers
,
Products