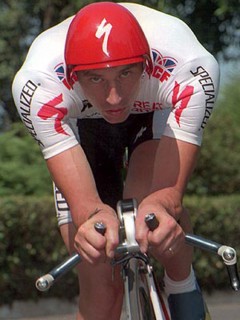 Most Americans' knowledge of cycling begins and ends with Lance Armstrong and the Tour de France. But in Europe—where fan interest is high and press coverage extensive—cyclists are household names. And while the Tour de France is the sport's most famous and lucrative race, the World Hour Record (WHR) might be its most coveted record. The prestige of the WHR comes as a surprise to many. After all, it's a simple race-against-the-clock event: Get on a bike; Ride it around a velodrome (a circular, banked bicycle track) for sixty minutes; Then count the laps and the fractions thereof.
But simple is not the same as easy, especially in cycling, which is primarily a "pain" sport. In 1972, Eddy "The Cannibal" Merckx set the WHR in Mexico City, covering 49.431 kilometers (or 30.53 miles, for those of you not living in a metric world). A five-time Tour de France winner, Merckx said it was the hardest thing he had ever done, and many believe he was never the same afterward. Since Merckx is generally considered the greatest cyclist who ever lived, that ride sealed the Hour Record's reputation.
The list of WHR holders reads like a pantheon of the sport and includes Francesco Moser, Miguel Indurain and the aforementioned Merckx. But there is one rider on the list who stands apart, an unlikely and ungainly champion, who, despite breaking the Hour Record multiple times, never achieved the fame and notoriety of his contemporaries. Ultimately, he was defeated by men with tape measures, and by his own obscurity. This is the story of Graeme Obree.
To read the full article please click though to FailureMag.com. This article is a great read so please take the time to read the full text.
Other Graeme Obree Related Posts

Bike Geek
,
Books
,
Cycling
,
Cyclist
,
Eddy "The Cannibal" Merckx
,
Francesco Moser
,
Graeme Obree
,
Graeme Obree
,
High Speed Cycling
,
Hour Record
,
John Stesney
,
Miguel Indurain
,
Speed Record
,
World Hour Record