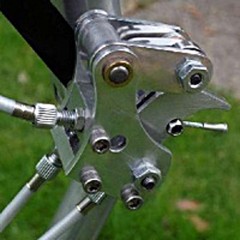 Brake Director™ allows you to do with one hand what's normally only possible with two hands: brake both wheels on a bicycle. We call Brake Director™ the world's first one-hand power braking system, and the "power" part reflects the fact that Brake Director™ literally multiplies the force applied to your brakes when you squeeze the lever. This makes it possible for you to brake both wheels by applying the same amount of force to the brake lever that you would normally use to brake just one wheel.
The Brake Director™ unit is normally mounted somewhere on a bicycle's handlebars, and it can be connected to one or both brake levers. Because of its simple and robust design, the Brake Director™ component can be used on many types of human-powered vehicles besides conventional bicycles, including tandem bikes and recumbent cycles.
Technical Details and Installation Information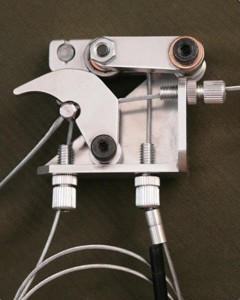 Brake Director™ works by installing the output cable from the single lever to a varied ratio cam, which first gives regular motion bringing the brake shoes into contact with the rim. The ratio then shifts to a 2-to-1 multiplication of force, giving more than the the force of 2 hands to the brakes. This extra force creates increased sensitivity to brake operation. The cam operates a dual output differential which distributes 100% of the created force to the brakes via 2 cables. Each brake is thus supplied with more than the standard force of a single hand.
Weight: 71 grams
Price: $150 (£84.73)
Available from BrakeDirector.com
Brake Director
,
Brake Director
,
BrakeDirector.com
,
Braking Parts
,
Manufacturers
,
one-hand power braking system
,
Products