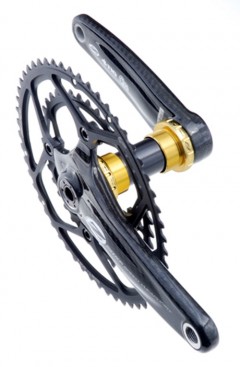 The VumaQuad is a 4-arm compact crank fits the emerging 30mm BB standard, has a 30.0mm spindle and 30mm bearings. This crank set is 33% stiffer than the next lightest product on the market and passed the new increased CEN fatigue test at the new standard of 1800 Newtons.
We offer both compact 50/34 and standard 53/39 extra stiff chain rings fitted to a 110mm bolt circle and attached with "NoNuts" system to reduce weight and increase overall crank stiffness. The smaller chain ring is threaded, so we use a larger diameter bolt to increase thread engagement, reduce weight and Stiffen the chain ring – crank arm interface.
There is a ceramic bearing option (with gold bearing cups + $200) comprising ABEC 7 races and Grade 2 balls. Our standard (gray bearing cups) option with ABEC 5 races and Grade 10 steel balls is already 2.5 times rounder than the industry norm.
The VumaQuad is compatible with all 68mm wide bottom brackets with either 1.37″ X 24T English threads or 36mm X 24T Italian threads. The VumaQuad is designed to work with only the VumaQuad bottom bracket bearing cups.
continue reading "ZIPP VumaQuad 30mm Crank with Ceramic Bearings from Wiggle.co.uk"