Whether you have mountain biking mud in your veins or roll on skinny road rubber, there's loads to do and see at BikeRadar Live 2009, Britain's biggest bike bash.
Events include the Cycling Plus Sportive (100km and 100 mile), Whyte Night night-time enduros (12hr and 4hr), MBUK Eliminator dual-slalom, Triathlon Plus duathlon and the Devil Takes the Hindmost circuit race. Click here to sign up.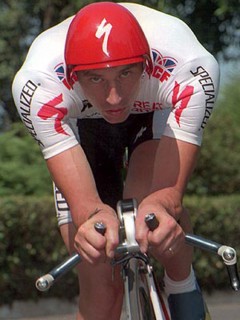 Plus cycling legend Graeme Obree, The 'Flying Scotsman', will set a Procycling Hot Lap on the Donington Park motor racing circuit to set a time that visitors can try to beat.
The 'Flying Scotsman', who broke the world hour record using a self-designed bike and the 'Superman' riding position in the early 1990s, will ride a Procycling Hot Lap and set a time
Obree, who in the early 90s set a new world hour record on his self-designed bike that using the 'Superman' riding position which was shortly after banned, will be taking part in a question and answer session in the BikeRadar Live big-top, so go along ask him about his incredible life, career and the film that was made based on his autobiography, The 'Flying Scotsman'.

continue reading "BikeRadar Live at Donington Park, UK, on May 30-31 2009"