This is a short review by David J. Anderson from AgileManagement.net of the film 'The Flying Scotsman' about the life of Graeme Obree.
———–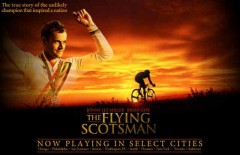 For a while I've been thinking of doing a series on some my favorite management inspiration figures – my heroes of management, if you will. Well this first post isn't about management, rather its about my other passion – biking.
Last week I got a ticket for the Seattle pre-screening of The Flying Scotsman, the story of Graeme Obree. The guys at my local bike store, BikeSport, respect my bicycle – a 1998 model Corratec TrialBow (though they mistook it for the Team Racing model like the one in the picture with Jan Ostegaard), either way a collectors item. The movie distributor had arranged to provide tickets to local bike shops and they decided I'd be one of the guys who might like to attend. They didn't realize that I might very well have known Obree…
———–
Please go over to the AgileManagement.net site to read to full review.

continue reading "Graeme Obree – 'The Flying Scotsman' review by David J. Anderson"