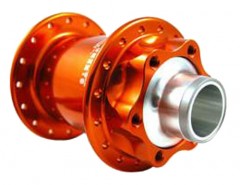 This design was a challenge. As with all of our products, we wanted the 20mm Thru-Axle Front Disc Hub to be the best that money could buy. Our design criteria were simple: a one piece super strong axle that could be adjusted in the field with a single wrench, without removing the wheel, the toughest bearings possible and it needs to build an excellent wheel while still looking sharp and not weigh in like a stuffed pig.
We had to design an entirely new bearing for this guy. It is about the same size as a one inch headset bearing.
Bigger than anything else out there. A high strength, 110mm, one piece aluminum axle is capped with 2 stainless steel axle biters to hold onto your fork legs like crazy. Why a one piece axle? Some other hubs require that you adjust the hub bearings by clamping the fork legs together harder, while others have no adjustments at all. You want strong? Looking for reliability and ease of adjustment? Look no further.
The 20mm Thru Axle Front hub is compatible with the ISO disc standard.

Top Features of the Chris King ISO 20mm Thru Axle Disc Front Hub
207g
57.6mm flange diameter
31.2/23.1mm center to flange
110mm axle width
23.9mm axle diameter
Price: £182.25
To learn more about this product click though to Wiggle.Co.UK
Chris King
,
ChrisKing.Com
,
Disc Hubs
,
Front Disc Hub
,
Hubs
,
ISO disc standard
,
Manufacturers
,
Products
,
Tech Info
,
Thru-axles
,
Wiggle.Co.UK