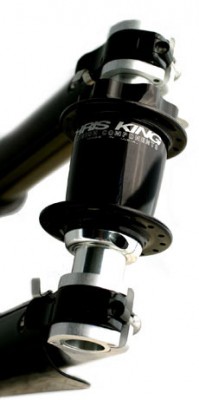 Chris King is not known to jump on the bandwagon of every new design that goes by. While the 24mm QR style hub attachment system is relatively new, we feel that it solves a variety of problems all at once. For some riding styles, the old "quick release skewer" type front hub is just not enough for the job. Along came the thru-axle front hub for bicycles.
Thru-axles came to bicycles from motorcycling. They are very strong and it is a time-tested attachment system. Thru-axles work very well on bicycles too. It's just a pain to get the wheel on and off to throw your bike in the back of your car. That's where Maverick's 24mm QR system is better, two little levers and off comes your front wheel.
Our 24mm front disc hub tips the scales at a modest 240 grams. It uses the same shell, bearings and adjusting clamp as our 20mm hub; the only difference is the axle itself. One axle for 20mm thru-axle systems, one axle for the 24mm QR system.
In other good news, you'll be able to get away without rebuilding your wheel if you were running one of our 20mm hubs before. The wheel will simply need to be re-dished a little bit to get you going down the road, or trail as the case may be.
The 24mm Front hub is compatible with the ISO disc standard, available in all of our colors, in 32° and 36°.
To learn more about this product click though to ChrisKing.Com
Text and Images are Copyright© of King Cycle Group
24mm QR system
,
Chris King
,
ChrisKing.Com
,
Disc Hubs
,
Front Disc Hub
,
Hubs
,
ISO 24mm
,
ISO disc standard
,
King Cycle Group
,
Manufacturers
,
Maverick's 24mm QR system
,
Products
,
Tech Info
,
Thru-axles