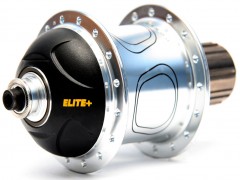 Entry level power. Powertap Elite+ in either Shimano or Campagnolo configurations. Various hub sizes available.
Wireless 2.4 GHz transmission with Ant+Sport
12mm steel axle
Alloy hubshell
USB download
Patents issued and pending
What's in the Box
Take your cycling to the next level and step up to measured power with the Elite+. Featuring the same power management as models three times as expensive, the Elite+ gives you the essentials so you can stop estimating and start measuring.
Power to the People: With a wide range of features, there is a Plus Series PowerTap for every rider – every ability – and a wide price range. Step into the tested and proven method for improving performance with a power measuring Elite+ PowerTap. Which PowerTap is right for you?
The Precision of PowerTap, The Flexibility of ANT+Sport: Data can be the difference between first and second. PowerTap is the precise instrument that gives you access to real-time performance measurement, and is accurate to within +/- 1.5%.
With the flexibility of ANT+Sport, all Plus-series PowerTaps can be paired with any ANT+Sport device. So, either use the PowerTap CPU or other ANT+Sport compatible device.
Available in: 20, 24, 28 and 32 hole versions for either Shimano or Campagnolo
Weight: 624g (hub only)
Price: £539.99 (retail £599.99)
Available from Wiggle.co.uk
ANT+Sport
,
Bike Computer
,
CycleOps
,
CycleOps Powertap Elite Plus
,
Elite+
,
Hubs
,
Manufacturers
,
PowerTap
,
Powertap Elite Plus
,
Products
,
Saris Cycling Group
,
Wiggle.Co.UK