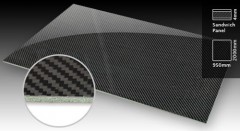 Product Description
This specially developed Foam-Cored Carbon Fibre Panel 4mm uses a combination of genuine 2/2 twill, 3k carbon fibre (to match our full range of carbon fibre products) with an ultra light weight foam core and either black glass top surface.
To ensure great bond strength and minimum resin content the panel is laminated and cured in a specially made vacuum press. This process also allows us to produce sheets with a high gloss on both sides, which is not possible with open wet-lay manufacture.
Performance Advantages
This Foam-Cored Carbon Fibre Panel was designed specifically as a high performance replacement panelling material for weight conscious kit-car builders but is equally suited to any application where maximum deflection resistance strength is required for the minimum weight – requirements often present in marine applications.
The foam core allows us to make a panel of satisfactory thickness to be very stiff for the minimum possible weight. Conventional panels (made without a core material) are significantly heavier for the same deflection strength. The core material (and thicker panel) also eliminates the rattling associated with thin aluminium sheet.
Suggested Uses
Made specially for those projects requiring much larger carbon fibre sheet, the huge 2000mm x 950mm sheet is perfect for Caterham / Westfield body panelling and will fulfil the majority of applications in a single span. The following list of suggested uses is just a small sample of the many products this Foam-Cored Carbon Fibre Panel could be ideal for:
Interior Panelling
Tunnel Tops
Under-Trays
Boot Lids
Composition:
High-gloss clear gel-coat surface
2/2 twill 3k carbon fibre fabric
Single layer of woven E-Glass
3mm foam core
SIngle layer of woven E-Glass
Black high-gloss gel-coat.
Total thickness 4mm (+/- 0.2mm)
Cutting, Shaping & Finishing
As with all carbon fibre and composites (like fibreglass, carbon kevlar etc) good results can be achieved for cutting, shaping and finishing this sheet using regular workshop tools like hacksaws, jigsaws and wet-and-dry. Specialist tools can, however, make lighter work of the job and produce better results.
We recommend Perma-Grit tools for the cutting and shaping of our carbon fibre sheet.
Sheet Size
0.5sqm (950mm x 500mm)
1sqm (950mm x 1000mm)
2sqm (950mm x 2000mm)
Prices
0.5sqm £109.94
1sqm £199.95
2sqm £359.95
All from CarbonMods.co.uk
4mm Carbon Fibre Panel
,
Carbon Fibre
,
carbonmods.co.uk
,
carbonmods.co.uk
,
Cycling
,
Foam-Cored
,
High Speed Cycling
,
HPV Cooling
,
Manufacturers
,
Products