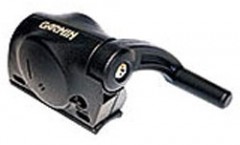 Most cycle orientated Garmin GPS's have a speed and cadence feature, you will need this Garmin GSC10 Speed/Cadence Sensor to make use of this.
Monitor your pedaling cadence as you ride with this self-calibrating, wireless speed/cadence sensor. It measures and reports your pedaling strokes per minute, providing feedback for optimal performance.
If using with a Colorado or Oregon Series the GSC10 will only report cadence.
To see more details and 3D views visit the UK Garmin Edge minisite here
Weight: ???
Price: £40.49 (retail £44.99)
Available from Wiggle.co.uk
Bike Computer
,
Cadence Sensor
,
Garmin
,
Garmin GSC10 Speed/Cadence Sensor
,
GPS
,
GSC10
,
Manufacturers
,
Products
,
Speed Sensor
,
Wiggle.Co.UK