This is a short review by David J. Anderson from AgileManagement.net of the film 'The Flying Scotsman' about the life of Graeme Obree.
———–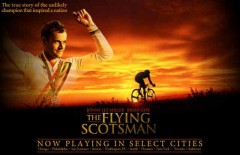 For a while I've been thinking of doing a series on some my favorite management inspiration figures – my heroes of management, if you will. Well this first post isn't about management, rather its about my other passion – biking.
Last week I got a ticket for the Seattle pre-screening of The Flying Scotsman, the story of Graeme Obree. The guys at my local bike store, BikeSport, respect my bicycle – a 1998 model Corratec TrialBow (though they mistook it for the Team Racing model like the one in the picture with Jan Ostegaard), either way a collectors item. The movie distributor had arranged to provide tickets to local bike shops and they decided I'd be one of the guys who might like to attend. They didn't realize that I might very well have known Obree…
———–
Please go over to the AgileManagement.net site to read to full review.
Buy the books and DVD's from Amazon…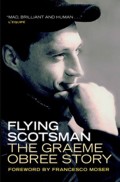 Graeme's autobiography, 'Flying Scotsman: Cycling to Triumph Through My Darkest Hours' on which the story of the film is based, is well worth reading, especially if you're interested in cycling. He talks about the events which led up to his rise to fame, describes what happened in the various races (and talks a bit about the kit he was using), and goes into some detail on the mental state which saw him oscillate between highs and depressive lows.
A later edition of the book has the same cover as used for the film… and Amazon allow you to read select pages with the "
Search Inside
" function.
The Flying Scotsman, Amazon.co.uk Reviews of the DVD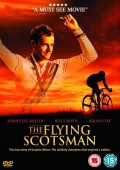 Silver-screen sports stories rarely revolve around the big and brawny, but the small and scrappy, like Sean Astin in Rudy or Toby Maguire in Seabiscuit. For Scottish cycling sensation Graeme Obree (Trainspotting's Jonny Lee Miller), the biggest obstacle isn't physical, but financial–and psychological. From 1993 to 1995, when most of The Flying Scotsman takes place, he's a bike-shop owner and courier who dreams of turning pro (Laura Fraser plays his supportive spouse). After Rev. Baxter (Brian Cox returning to his native Scotland) sets him up with supplies, and fellow courier Malky (The Lord of the Rings' Billy Boyd) agrees to manage him, Obree sets out to break the one-hour world record. He starts by building a bicycle from spare parts, a move that recalls Anthony Hopkins' eccentric racer in The World's Fastest Indian.
Obree's money woes are further complicated by a battle with manic depression, which is handled sensitively, if superficially, i.e. it isn't made clear whether he ever receives treatment. Though he'll break several records before the film is over, the World Cycling Federation (represented by former James Bond villain Steven Berkoff) makes him jump through several demeaning hoops to get there. As for Miller, he's convincing as a cyclist (Obree serves as one of his stand-ins), though Boyd provides the bulk of the charisma. Nonetheless, the real-life champ deserves recognition for his achievements, and Mackinnon's movie is as a sympathetic testament to a true talent. –Kathleen C. Fennessy
The Flying Scotsman: The Graeme Obree Story, Amazon.co.uk Reviews of the book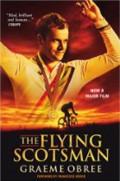 Hard-hitting and brutally honest. –Cycling Weekly
This is a book that must have taken great courage to write, is a harrowing reminder of how little the public know about sportsmen, no matter how brightly the spotlight shines on them –The Guardian
This is one of the best and moving sports books I have read –Alastair Campbell, The Times
Other Graeme Obree Related Posts

Books
,
Cycling
,
Cyclist
,
Film
,
Film
,
Graeme Obree
,
Graeme Obree
,
Graham Obree
,
Speed Record
,
The Flying Scotsman