The external bottom bracket is available with two
different bearing options. All common systems are
covered with this upgrade unit – making it ideal for
Shimano, Race Face and others.
The machined aluminium cups hold either full
stainless steel cartridge bearings, or ceramic bearings
in stainless races. These custom, Swiss made bearings
are double sealed, fully serviceable and removable
which give much greater life span than stock units.
The bearings are made (as all our bearings are) by
INA and have been designed to run directly on the
crankset axle, without the use of shims or spacers -
again increasing life and reliability.
We use a non contact, free running labyrinth seal to
protect the bearing externally, and the machined
aluminium centre tube is sealed internally with o-rings.
The unit is suitable for 68 & 73mm shell width's – with
an 83mm width version and a specific road unit to
follow later in the year..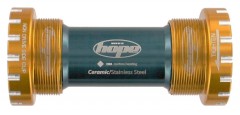 Standard 6 colours are available on cups – red, blue, silver, black, gold and gunmetal, with the centre tubes being black on the stainless and gunsmoke on the ceramic.
Prices: £83.68 (retail £92.98)
Available from Wiggle.co.uk
Review from BikeRadar.com by Guy Kesteven
We got one of Hope's first production ceramic bottom brackets over a year ago. The great news is that after all that time it's still going strong, despite constant use and absolutely no attention.
We did hear of one over in the Pennines that needed a clean-up after a month, but that's been fine ever since. It looks as though their unique labyrinth seals, direct mount INA bearings and alloy sleeved design work.
The downside? Hope's bottom bracket is pretty expensive at almost £100 and slightly heavier than other ceramic sets.
BikeRadar verdict- 4.5 Stars
"These aren't cheap, but they're the nearest thing to a fit-and-forget BB that you can buy right now"
BikeRadar.com
,
Bottom Brackets
,
Ceramic Bearings
,
External Bottom Bracket
,
FSA
,
Fully Serviceable
,
Guy Kesteven
,
Hope
,
INA Bearings
,
Manufacturers
,
Products
,
Race Face
,
Review
,
Shimano
,
Wiggle.Co.UK