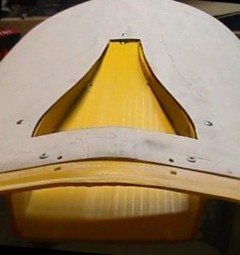 A major issue with well sealed, fully faired HPVs is overheating. Racing during a typical 85 degree and 90 percent humidity Midwestern afternoon can generate in-fairing temperatures in excess of 110 degrees fairly rapidly. At that point it's only a matter of a short period of time before a competitor experiences overheating and has to stop racing. This is not a good thing. In the past, streamliner builders have employed a few techniques to allow them to make it through a race without expiring:
Train for the heat – It has been found that if you train in high heat conditions, your body becomes acclimatized.
Ice in the water bottle/bladder – drinking cold water helps a lot
Spray bottle – some racers mount a spray bottle inside their fairing and spritz themselves during the race.
Air ducts – some racers put holes in the fairing or canopy to allow some air to cool the fairing.
Matt Weaver's Virtual Edge used a human powered fan, which sucks air in from rear area of fairing and shoots in out the back .
Fancy cooling jackets – Umm… Right….
See the original article at wisil.recumbents.com to read the full text
Air ducts
,
Cooling
,
Cycling
,
Design Aids
,
HPV Cooling
,
NACA Duct
,
Products
,
Tech Info
,
Warren Beauchamp