Why is the "new" UCI hour record using the normal drop position roughly 6 km/h slower than the superman position ? Is the Obree-position really so much faster ? How much faster will I ride if I use the aero position instead of the normal drop position ? What happens if I use disc wheels? On this page you can calculate the effect.
First some basics:(we need some math to understand the effect…)
See the original article to read the full text
Most important at high speeds is the value for cwA. Here is a table with different measurements. One can see that the differences are quite large.
Some Values for cwA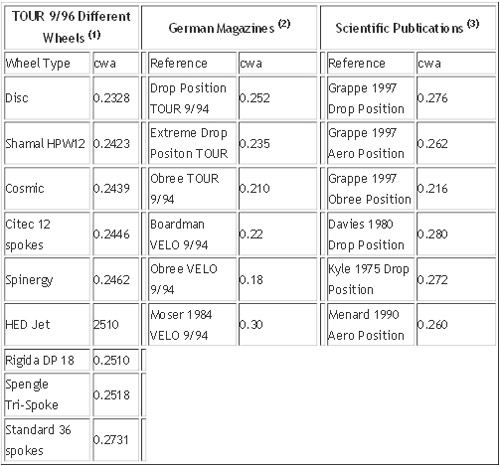 Now let's calculate the power! (Efficiency of the chain = 98%) (Click on button "Power")
You can calculate the power for two different setups (change cwA, cr, or the mass of the rider plus bike). If the values on the right side are smaller than on the left side, the power will be smaller. If you click on the button "Calculate Improvement Table", a window will open which shows how much faster the rider will be. Clicking "Plot sec per km" will create a plot showing how many seconds per kilometer one gains for a given speed, clicking "Plot km/h per km" will do a plot showing the gain in km/h.
The Basic Table: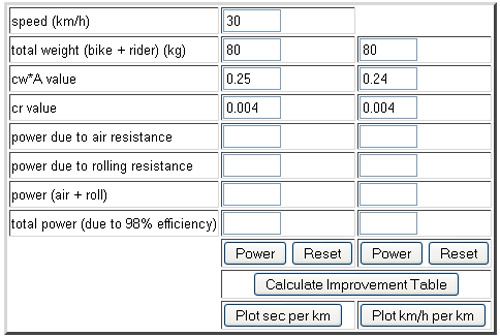 For 135km/h or 86mph: This allows for the heavier design of the HPV.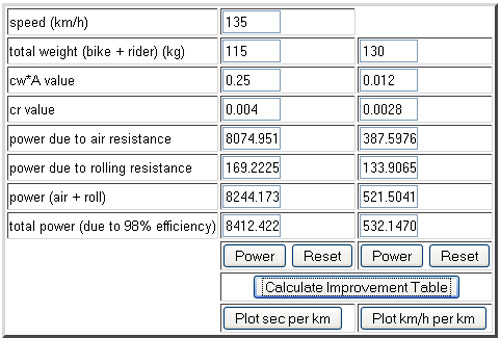 So as where the upright cyclist needs over 8.4kw or over 11.27hp of energy to reach 86mph the full faired HPV with special low resistance tyres only needs 532w or around 0.71hp to reach the same speed, that's about 6.3% of the energy that the upright cyclists needs or nearly 16 times the power.
Calculations of Improvements: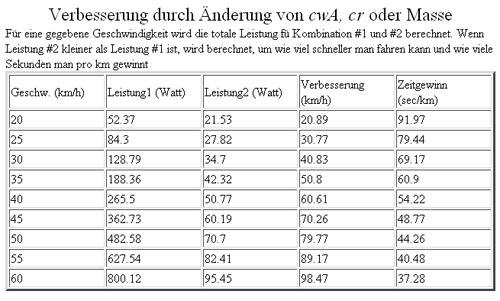 NOTE: All images on this page are screen grabs from the wolfgang-menn.de and are hosted on our own servers, no bandwidth from wolfgang-menn.de has been used.
Air Resistance
,
Calculate Improvement Table
,
Calculations
,
cr Value
,
Design Aids
,
Efficiency
,
Efficiency of the chain
,
High Speed Cycling
,
Rolling Resistance
,
Tech Info
,
The Motion of a Cyclist
,
Total Power
,
Values for cwA
,
wolfgang-menn.de