Front Wheel Drive Bicycles
The new way to ride a bike
from the CruzBike.com website:
The Cruzbike is a comfortable, fast and efficient all purpose recumbent bicycle with several features that remove the pain of riding and protect your health and safety. And it's a blast to ride! The Cruzbike truly will renew your love of bikes.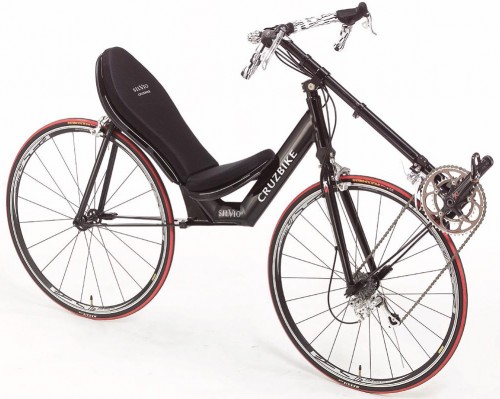 The Cruzbike uses a unique front wheel drive triangle that efficiently transfers your power to the ground. The sculptured seat supports your lower back and prevents saddle problems. The seat and backrest give you a comfortable heads-up sitting position, which is also very aerodynamic.
Silvio recumbent racing bike.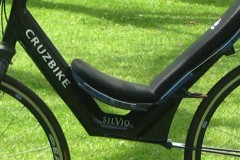 Silvio is a front wheel drive moving bottom bracket recumbent capable of being fitted with the latest Shimano Durace or Ultegra 10 speed systems, etc, without modification and with all components working as they were designed to. Silvio is sold as a frame set only which includes air suspended front triangle, main frame with integrated seat and suspended rear triangle.
The dual suspension fitted to Silvio has a carbon fiber, elastomer dampened system in the rear and a fusion system in the front, integrating an adjustable compressed air suspension fork, with a carbon fiber chainstay suspension yoke in a patent pending new front triangle assembly. The frame is aluminum 7005 T6 and integrates the seat shells into the structure for added strength and weight savings.
Seat Back angle is 45 degress and is not adjustable, that is, the seat shells form an integral, structural part of the rear frame. The main down tube is a teardrop cross-section.
Rear travel is 13mm 0.5″ by elastomer damping, single rebound titanium leaf spring and carbon fiber rear chainstay.
Front travel is 40mm 1.5″ by adjustable air head shock and carbon fiber chainstay.
Wheelbase 1020mm 40″
Weight distribution with 70kg (154lb) rider: rear 50% front 50%
Frameset weight as supplied is 6.5kg / 14lbs, with final weight in the order of 11.5 to 12.5kg. The total weight of the complete bike will ultimately depend on the components and wheels each person selects.
The Silvio is designed for a double crankset; if you are tall you may be able to use a triple, but we cannot guarantee. We are preparing an adapter plate to allow a triple and will change this entry when that is ready.
While building a light bike is an objective, it is not the only objective. It must have dual suspension and must be stiff through the drive structure, including the seat. We were asked why we are so keen on suspension, since a road bike without suspension tends to be lighter, stiffer, less complex, and usually faster. A top 10 reasons list to use suspension might look like this:
10) its the 21 century, should be no reason to do without it
9) cruzbikes do not suffer pogo – so low stiction suspension systems work well and decrease rolling resistance


the front leg adjustment requires pivots in the triangle and so the pivots to make suspension work on the front are already there
7) FWD needs to get good traction on the front, suspension helps that by keeping an even pressure against the road
6) the hard shell seat is solid to promote good power, so this calls for suspension
5) our Taiwan manufacturing partner has some lovely suspension technology that we've been able to integrate
4) kudos, to build a light recumbent road bike including dual suspension
3) target segment is pretty surely over 40, should have lost the anti-suspension machismo nonsense by then
2) better grip on the road, better handling, better passive safety
1) its nice to ride down staircases! (legal note – not actually recommended)
Removing the suspension would make the bike lighter and give it slightly increased rolling resistance, a slight reduction in consistency of traction, and possibly increased rider fatigue.
Cruzbike Sofrider V2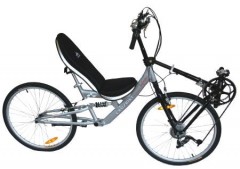 On the V2 Cruzbike Sofrider we have kept the concept of a bike designed for anyone who wants to banish the pain of cycling, but we have made some nice improvements to the specification, such a 16 speed gear range, high pressure 100psi tires and improved stiffness in the front structure.
At Cruzbike we don't pretend a bike is very narrow horse with painful narrow saddle, no sir! We recognise that a natural seating position is best for human anatomy; we put the body in a comfortable, ready to exercise position and design the bike around that. Therefore, the body is naturally seated and because the feet are obviously near the front wheel, we made it front wheel drive. Simple as that!
The Sofrider has high performance dual suspension technology and high pressure tires that give a great gliding-smooth ride on any surface.
The length of the front tube adjusts instantly for riders short and tall and the seat fully adjustable too so you will find the sweet spot that suits you.
Think of a long ride and double it. That's how far you'll be going in your first week on a Sofrider. You will be amazed by what you can do on a bike that does not give you pain.
Or for a even more relaxing ride, take the Freerider.
You can read a detailed comparison of Sofrider V2 and Sofrider V1, prepared by one of our enthusiastic and technically minded customers.
Recline in style on the Freerider V2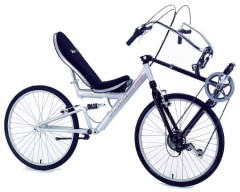 In V2 of the Freerider we have kept the coool bike phenomena, but lowered the seat 1″, upgraded the components and added 100 psi tires while keeping the price the same. People will still call out 'hey, coool bike!', and you will still get that feeling of total freedom and self expression. Often called a recliner bike when they are first seen, this bike is one of the world's most innovative recumbents.
On this bike we have deliberately provided a commanding wide grip and a very distinctive look. Cruiser bars look great and on the Freerider they put your hands right where they need to be for full comfort and control. The wide leverage translates to excellent manoeuvrability. This bike rides easier than any other.
Cruzbike Freerider… fully adjustable pedals, fully adjustable seat and handlebars, now you are definitely cruzin.
You get a wide stance and excellent leverage. The chopper bars give a unique look without compromising performance, on this bike you can actually ride a decent speed and distance. The Freerider goes the distance. It is not burdened by excess weight, it is eight speed and a very efficient ride. Perfect for combing the beaches or for cruising across town, or anywhere your heart takes you. Fall in love with something special!
Cruzbike Freerider – full cruiser style AND total performance in one perfect sized package.
Frame

Custom Cruzbike Y-Frame V2

Silver Metalic

Rear Shock

258 850LBS,165mmL*24mm*24mmW

Black

Fork

Cruzbike EVO Suspension Fork 26″

Black

Front Triangle

Cruzbike Front Triangle

Black

Braking

Brake

HJ-806AD,ALLOY ARM

Silver

Brakelever

HJ-288ADV,ALLOY,3-FINGER

Black/Silver

Handlebar

Cruzbike Freerider H/bars Steel

Black

Stem Clamp

Cruzbike Freerider Extendible

Grips

701EP RUBBER 75mm RIGHT / 100mm LEFT

Black

Gearing

B.B.Part

CARTRIDGE 68mm* 122.5mm

Black

Rear Derailleur

Microshift RD M55 long cage

Black

Shifter

Microshift DS85 – 8R (8 sp)

Black

Freewheel

Sunrace CSM668AU0SS1, 11-32T FOR 8SPD

Satin

Crank & Chainwheel

DURABI-100A:3/32″*44T AL Silver/155mm AL Crank HAP Silver.

Chainwheel Cover

W/Sil Alloy Cover

Wheels

F./Hub

A 781QR ALLOY 3/8 (9.5mm) x14Gx36Hx100×108mm W/ ALLOY Black QR.W/ SEALED BEARING

Black

R./Hub

CS300, ALLOY M10×14Gx36Hx135×145mm Black QR TYPE 8-SP.CASSETTE TYPE W/ SEALED BEARING

Black

Rim

DP-18  26″x1.5×14Gx36H ALLOY DOUBLE WALL A/V.

Silver

Tire/Tube

26″*1.5*60TPI (100PSI). TUBE:A/V, STRAPE(OB):26″*16mm

Dark Skin

Pedal

VP-193, w/Sealed bearing:98*72mm

Black/Silver

Bell

NH-409AP, ALLOY TOP W/PLASTIC

Silver

K/Stand

NH-KC19AA, CENTER TYPE 320mm, ALLOY

Black

Reflector

TF602*2PCS

R./Bracket

PVC F:TF-18 W/RUBBER PAD FIT H/BAR,R:TF-18-1 FIT S/POST

Black

Seat & Support

CRUZBIKE SEAT W/Black COVER

Silver
Conversion kit to build a your own recumbent bike from a dual suspension mountain bike
The Cruzbike Recumbent lets you take advantage of the wide range of qualities and components, the massive production volumes, bulk freight costs, and highly efficient distribution channels of common mountain bikes.
You can buy your mountain bike at the very best price possible with plenty of choice for the components that you require for your ideal recumbent bike. You will benefit from the high production volumes and low prices of what is already available!
Available from CruzBike.com
Prices
More Info from
John Tolhurst
Design Director
Cruzbike Inc
john@cruzbike.com
Read John's design blog
Conversion Kit
,
Cruzbike Inc
,
CruzBike.com
,
CruzBike.com
,
Freerider V2
,
Front Wheel Drive Bicycles
,
John Tolhurst
,
Manufacturers
,
Products
,
Recumbent
,
Silvio
,
Sofrider V2