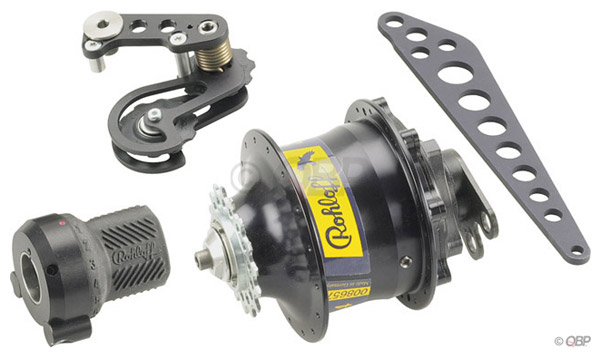 The Rohloff SPEEDHUB 500/14 has been developed for both pros and performance oriented hobby cyclists who can appreciate it because of its reliability, perfect single gear ratios, wide range of gears, low maintenance and easy operation; its weight and efficiency are ideal even for pro racing.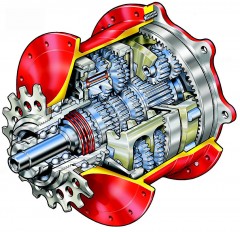 The sealed gearbox ensures reliability and durability even under the toughest conditions. The even increments of 13.6% from gear to gear make it possible to always ride at the performance peak. The overall range makes sure that you have the right gear in every situation. Pure fun is guaranteed.
The SPEEDHUB 500/14 is operated by a twist shifter which shifts simply by pulling separate cables up or down.

The indexing of the shifting lies not in the shifter as with common designs, but inside the hub. There is no wear on the indexing system nor need to adjust it.
The first part of the model codes (CC/TS) refers to the axle type.


Two different axle types are available:
CC: Cross Country
Hollow axle for use with a quick release lever (Quick release axle).
TS: Threaded Spindle axle
Threaded axle with axle nuts M10×1.
The following part of the model codes refers to additional hub specifications:
EX: External gear mech
With external gear mech, uses an external cable box to select the gear for use, this can be quickly removed from the external transfer box should the rear wheel have to be removed.
DB: Disc brake
With a disc brake hub cap and external gear mech EX.
OEM: OEM version (original equipment manufacturer)
With CC OEM or TS, according axle type only for frames with Rohloff OEM dropouts.
OEM2: OEM2 version
With CC OEM2 or TS, according axle type for frames with international standard (IS 2000) disc brake mounts.
T: Tandem version
With longer shifter cables for tandem use.
available in three different colors:
| silver: polished aluminum | red: anodized | black: anodized |
| --- | --- | --- |
| | | |
The diagram below shows a comparison between a 27-speed derailleur gear system and the Rohloff SPEEDHUB 500/14. There is no difference between the range of gears and the range of effective gears. Next to this is the optimum, evenly increased speeds of the Rohloff SPEEDHUB 500/14. Impossible for the derailleur gear system is the shifting speed and the possibility of shifting through all gears with just one shifter whilst stationary or whilst pedaling. Just like the derailleur system, the range of gears can be taylored to the riders individual wishes whether that be for a faster or a slower riding style.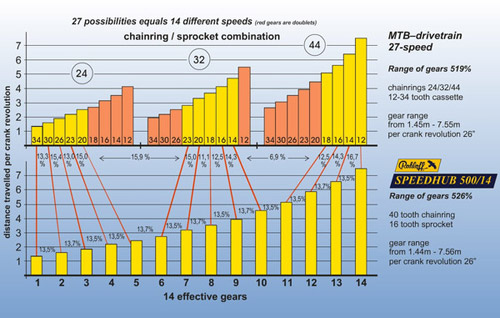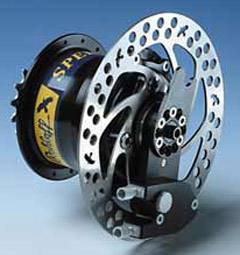 14 Speed Internal gear hub with Solid nutted type axle.
32H only. 135mm spaced.
Boxed kit includes cables, Torque arm.
(Note: Solid axle version excludes Chain Tensioner.)
Special 4 bolt Disc fitting.
(Disc not included… available as Rohloff specific part for most brake systems from Hope Technology Tel: 01282 851200)
526% range of gears (equivalent to typical 27 Speed MTB derailleur system)
14 Individual gears (no wasted overlaps or duplicates)
Evenly spaced 13.6% gear increments. (no sudden big jumps)
Ability to shift whilst stationary or under load.
Super efficient sealed Oil bath mechanism (95-99%)
Adjustment and maintenance free over thousands of miles.
Gear positions are indexed inside hub, thus negating critical cable tension adjustments.
Precision German engineered (in use Worldwide in the hardest of races and regions.)
Super reliable, can be used for virtually all disciplines, including Tandem and Downhill.
Lightweight – approx 1.7Kg
More Info Available from Rohloff.de
Find your local Rohloff distributor HERE
Price in UK:
Red or Black: £995
Silver: £965
CC
,
CC OEM2
,
Cross Country
,
DB
,
Disc brake
,
disc brake mounts
,
Disc Hubs
,
EX
,
External gear mech
,
Hubs
,
international standard
,
OEM version
,
OEM2
,
original equipment manufacturer
,
Products
,
Rohloff
,
Rohloff
,
Rohloff SPEEDHUB 500/14
,
sealed gearbox
,
SPEEDHUB
,
Tandem version
,
Threaded Spindle axle
,
TS
,
twist shifter