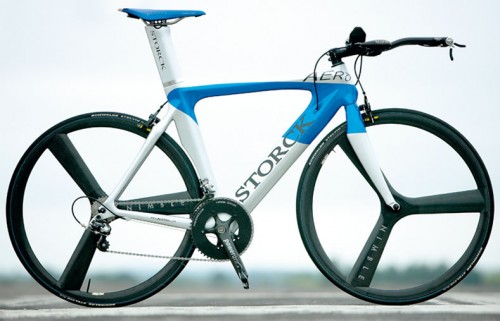 Review by George Ramelkamp for BikeRadar.com
Since its early forays into carbon fibre as a frame material around half a decade ago, the German brand Storck has continued to improve its products through a rigorous process of refinement in design, materials and execution.
Frame: sculpted and slippery
Produced in China in a bespoke facility, in proximity to the Mitsubishi carbon fibre manufacturing plant, Storck has complete freedom in choosing the appropriate weave pattern and fibre combination for the given application in the frame. Using computer stress analysis, they 'fine tune' every square inch of the structure; this is immediately evident upon close inspection. All sides of the head tube zone have been sculpted deliberately to create the smallest frontal area possible.
A one and one-eighth inch conventional integrated headset offers a welcome nod to widespread serviceability. This flows beautifully into a broad shouldered top-tube that tapers gracefully to the seat cluster. Down-tube and seat-tube are deliberately widened into a broader elongated diamond shape to maximise lateral stiffness while still maintaining aerodynamic efficiency. There is enough brawn in the head-tube and bottom-bracket zone to keep things nicely stout.
With low drag coefficient and all around good handling as a prime directive, Storck has graced the front of the bike with its Stiletto Aero fork, weighing a svelte 388g. Elegantly curved blades increase in cross section in the highest load areas, then flow into a gently sloping crown to meet the lower head tube.
Thin stainless steel protective plates over carbon fork tips, and an aluminium sleeve over the carbon steerer in the crown race area ensure durability with minimal weight gain. Mechanics across the land can breathe a sigh of relief: the high anxiety associated with cutting a seat tube that is part of the frame structure has been virtually eliminated through the use of a normal 31.6 by 320 mm seat post. A special teardrop shaped alloy collar acts as both seat post clamp and base onto which the upper 'shroud', once trimmed, is meant to be bonded.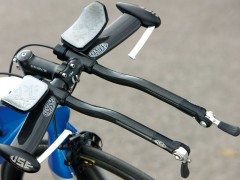 It can then be defined as a 'clamping structure', and thus satisfies UCI rules prohibiting any type of fairing. More applause should be given to the completely rattle-free and hassle-free internal cable routing, achieved through the use of permanent guide tubes for rear brake and derailleur. Finally, a rear triangle with reasonable tube cross-sections gracefully tapers towards rear facing dropouts made of hollow machined aluminium forgings. Tyre clearances are good, allowing up to 25 mm profiles. The two-tone 'Speed Blue over Silver' paint, with a touch of exposed carbon weave under the lettering, harks back to early sixties jet fighters, like Chuck Yeager's polished silver F104 Starfighter, or early Russian MIGs.
Summary
With a more sensible drop-bar and clip-on configuration, the Storck comes into its own as a versatile and super-fast ride for anything – from short and hilly triathlons, to 40km dual-carriageway time trials, and even Sunday club runs or long hard road races.
Prices
At £5769, if money were no object and only looks mattered, then the Storck as seen here could possibly represent what the inner boy-racer in all of us would love to own, but couldn't because of spending constraints.
However, combining the superb frameset and wheels, priced respectively at £2219 and £1180, with a more budget minded pick 'n' mix of components along the lines of Ultegra or Chorus, would bring the Storck Aero within reach of mere mortals. It would certainly still make it one of the most effective weapons in a weekend-warrior's arsenal.
Complete Bike: £5769
Frameset: £2219
Wheels: £1180
Read the rest of the review at BikeRadar.com
BikeRadar.com
,
Bikes
,
Carbon Fibre
,
Manufacturers
,
Mitsubishi Carbon Fibre Manufacturing Plant
,
Products
,
Scenario Aero (08)
,
Shimano
,
Shimano Chorus
,
Shimano Ultegra
,
Stiletto Aero Fork
,
Storck
,
Storck
,
Storck Aero
,
UCI Rules