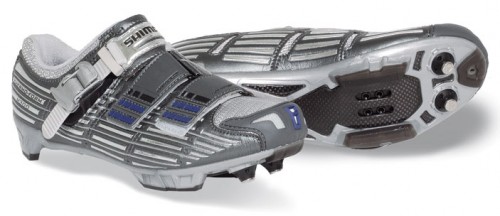 No compromise XC pro racing shoe, the benchmark in high performance with super stiff nano carbon fibre sole and Thermo-Form technology
Thermo-Form material in the upper with added padding can be custom moulded to conforms to your foot contours for precision fitment offering the ultimate in comfort, support and stability


Moulded armoured toe box gives further comfort and protection increasing durability
Thermo-Form insoles using anti-bacterium treatment with raised arches can be custom moulded to the foot giving the perfect fit offering excellent support and comfort
Full length nano carbon fibre sole keeps weight to a minimum while transferring your energy straight to the pedals
Nano technology strengthens the process of combining the carbon weave to produce a more ridged and lightweight sole

Aggressive dual injection-moulded racing sole with tread just where it is needed gives great mud shedding ability and traction while keeping weight to the absolute minimum
Replaceable toe spikes offer improved traction in extreme terrain
Anti-slip heel lining prevents heel lift by using a highly durable fabric knitted with a metal fibre
18 mm wide Micro-adjust buckle closure ir of size 40 more visible in low light conditions
Weight: 658 g for pa
Avaialble in sizes 42 to 47
To have this shoe custom moulded to your feet visit there store. They will not custom fit shoes purchased online.
Price: £125.99 (RRP: £179.99)
Available from CycleStore.co.uk
———–
These are Shimano's top of the range, none-higher, all-singing and quite a bit of dancing, race shoes. A cursory glance would tell you they had a full length carbon sole, the bare minimum in tread, two cut-to-your-desired-length Velcro straps and a micro adjust ratchet. And that they were really quite silver. What you would also see is that they say 'custom fit' on the side.
Custom fit shoes aren't a new idea, we've been putting wedges in our shoes for ages, but Shimano has a slightly different take on it in that the shoe is mouldable to your feet. This means that even the most odd shaped feet can be hugged and supported in all the right places. The process of being fitted for these is almost worth the asking price alone; First the insole is removed from the shoe, the shoe is heated in a special oven and the insole re-inserted into the shoe for you to put your feet into. Your foot and shoe are put into a plastic bag (bear with us…) and then a vacuum hose is inserted and all the air is sucked out of the bag. This forces the shoe to form-fit round your heel and mid foot. The insole is then heated up, reinserted and you stand in a pedaling stance to form the insole to your toe shapes. What you walk away with, in a nice Shimano bag, is a shoe that exactly matches your feet. And it feels wonderful.
Read the rest of this review at SingleTrackWorld.com
Clothing
,
CycleStore.co.uk
,
Manufacturers
,
Products
,
Shimano
,
Shimano M300 Shoes
,
SingleTrackWorld.com
,
XC pro racing shoe