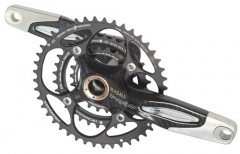 New Magma Carbon MTB crankset with integrated Activ Link stainless steel axle in the right crank for an excellent ratio of stiffness – dynamics – weight! Elastomere inserts for maximum pedaling comfort and less vibrations. Polished casings protect the crank arms at unexpected and hard tail strikes.
The innovative ALS (Adjust Length System) offers the opportunity to change the crank length from 170mm to 175mm.
The high-quality, CNC machined aluminium chainrings feature CT² technology (Ceramic top layer impregnated with Teflon). Adding Ceramic ensures a harder surface, longer life and resistance to scratching. The Teflon reduces the chain's friction and makes for diminished noise factor, lower over all friction and less need for lubrication.
Material: carbon, aluminium
Weight: approx. 870Â gram
Crank length (mm): 170/175mm (variable)
Chainwheel, number of teeth: 44/32/22
Axle profile: Activ Link (integrated) for BSA (1,37×24)
Included in delivery: Activ Link BB for BSA (1,37×24)
Price: £351.32
From Bike24.com
Activ Link
,
ALS (Adjust Length System)
,
bike24.com
,
Carbon Crankset
,
Chainwheel
,
Chainwheel
,
CNC machined aluminium chainrings
,
Crankset
,
Crankset
,
CT2
,
CT² technology (Ceramic top layer impregnated with Tefl
,
Cycling
,
Magma
,
Manufacturers
,
MTB
,
Products
,
Stronglight
,
Stronglight
,
Tech Info