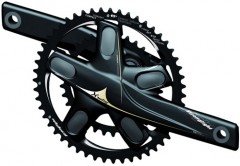 The new top model of Stronglight! X-Wing offers maximum performance in competition with a very futuristic design. With integrated Activ Link titanium axle (TA6V) in the right crank for an excellent ratio of stiffness – dynamics – weight! "In mold" magnet (inside the hollow carbon structure) for pedaling rate computer.
The high-quality, CNC machined aluminium chainrings feature CT² technology (Ceramic top layer impregnated with Teflon). Adding Ceramic ensures a harder surface, longer life and resistance to scratching. The Teflon reduces the chain's friction and makes for diminished noise factor, lower over all friction and less need for lubrication.
Note: Picture shows Compact version.
Material: carbon, aluminium, titanium
Weight:  approx. 650 gram (at 170mm)
Crank length (mm): 170mm, 175mm
Chainwheel, number of teeth: 53/39
Axle profile: Activ Link (integrated) for BSA/ITA
Included in delivery: Activ Link BB for BSA (1,37×24)
Price: £429.40
From Bike24.com
Activ Link
,
bike24.com
,
Carbon Crankset
,
Chainwheel
,
Chainwheel
,
CNC machined aluminium chainrings
,
Crankset
,
Crankset
,
CT2
,
CT² technology (Ceramic top layer impregnated with Tefl
,
Cycling
,
Magma
,
Manufacturers
,
MTB
,
Products
,
Stronglight
,
Stronglight
,
Tech Info
,
X-Wing