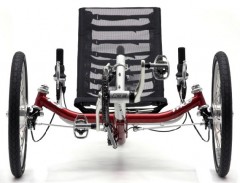 A great all round trike from a world-leading manufacturer at a very affordable price! With rear suspension, wide range gears and the ability to fold. Also available in a narrow track version.
Now available in a range of colours.
Trice Q offers:-
Low and Fast
Tunable rear suspension
Separates and folds
Available in two track widths
Mesh or hard shell seat
Both seats are adjustable for recline angle
20" wheels all round
Drum brakes or Hydraulic Discs
Available Red, Blue or Black superb gloss finish.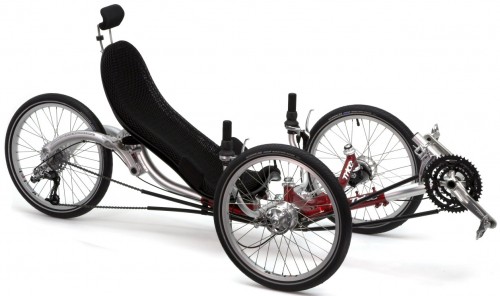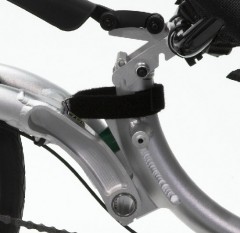 Sport or recreation?
The Trice Q comes as standard with our ultra cool and comfortable mesh seat but if performance is what you crave you may like to spec your Trice Q with the optional hard shell seat. Turning your Q into an ultra fast trike, with the hard shell seat installed there is a massive 16 degrees of adjustment available for the seat angle (28-44˚). To maximize the aerodynamic advantage of recumbents you need to lie back. The hard shell seat allows you to do this more so than the mesh seat. If you want to go very fast you also need a solid platform for efficient power production and the hard shell seat does this best. The contoured shape is also enhanced by a unique set of lower body side supports made by ICE to improve cornering performance.
Trice Q ICE image gallery Big at ice.hpv.co.uk
Price from:
Available from ICE.HPV.co.uk
TRICE Q
Specification
Overall Width
34.6″ (88 cm), 30.6″ (78 cm) for the Q NT
Overall Height
26″ (66 cm)
Overall Length ( Approx. for 6′ rider)
74″ (188cm)
Front Track
31.5″ (80 cm), 27.5″ (70 cm) for the Q NT
Wheelbase
41.75″ (107 cm)
Turning Circle
16′ (5m) diameter
Seat Height
8″ (20 cm)
Seat Back Angle (adjustable – 3 steps)
37 – 44 Deg (mesh seat) 28-44 Deg (hard shell seat and brackets)
Bottom Bracket Height (approx.)
13.5″ (34 cm)
Ground Clearance
3.2″ (8.2 cm)
Approx folded / dismantled size (NT)
Length 46.5″ (118 cm), Width 24.8″ (63cm), Height 14.6″ (37cm)
Weight without accessories or pedals from
36.2lbs (16.4Kg)
Wheels
20″ (406)
Tyres
Schwalbe Marathon Racer 20″ x 1.5″ all round
Gear shifters
SRAM X9
Brakes
Sturmey Archer front Drums
Chainset
Truvative Firex 26/36/48, 64/104 BCD, 4 arm spider
Front Derailleur
SRAM X9
Rear Derailleur
SRAM X9
Cassette Sprocket
Custom 9-32 9 speed
Gear Range
15.7″ – 103.5 " (

1.255m

–

8.28m)

Trades Description Act 1968. The manufacturers reserve the right to change the description and specifications to improve the product. Ask for the latest information.

for more image visit the ICE.HPV.co.uk site
.
ICE.HPV.co.uk
,
Inspired Cycle Engineering Ltd
,
Manufacturers
,
Products
,
Recumbent
,
Trice Q
,
Trice QNT 2008
,
Trike