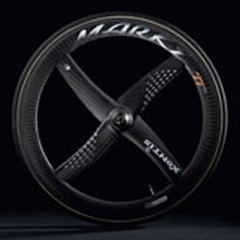 Xentis wheels are the fastest money can buy – winner of German Triathlon magazine's independant aero wheel test. Handmade in Austria to exacting specifications and as used by team Planet X riders Spencer Smith, Julie Dibens, Jozsef Major and UK double Ironman Winner Hywel Davies.
Mark 1 TT – Deeper blades and rims make for even better aerodynamics than the standard mk1 - Tubular and clincher versionsavailable – All carbon construction on both tubulars and clinchers
Price:
Xentis Mk 1 TT 57mm Front Clinche –

£615.58

Xentis Mk 1 TT 57mm Shimano Rear Only –

£719.36

Xentis Mk 1 TT 57mm Shimano Pr –

£1,334.94
Available from Planet-X-Warehouse.co.uk

from Planet X
Xentis Mark 1 TT's are up there with the most aero wheels available anywhere GO HERE FOR INDEPENDENT TEST RESULTS. Their ultra smooth DT Swiss hubs mean they'll spin smoothly no matter what. Added to which, those clever Austrians embed a tiny magnet into one of the 4 aero spokes (on the front wheel for Mk1's and BOTH front and rear wheels for Mk1 TT's). No more sticking little magnets to your precious carbon wheels to get your computer to work – just look for the magnet symbol on the side of the spoke to find it. Genius!
Aero Wheels
,
Manufacturers
,
Mark 1 TT's
,
Planet X
,
Products
,
Wheel Set
,
Wheels
,
Xentis