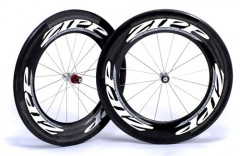 This all new ground-breaking torodial rim shape is designed to provide maximum aerodynamic advantage and has proven to be 29 seconds faster than a trispoke over 40 k. In wind tunnel testing it improves upon the record set by our 808 (82mm deep) rim and is still 80 grams lighter than the lightest trispoke.
Our detailed wind tunnel research has allowed us to explore the relationship between rim shape and depth in multiple innovative ways. This 1080 wheel set is designed to extract the maximum from the passing air while eliminating the pulsing drag effects of the trispoke. It is effective at 2-3 degrees more wind yaw than even our popular 808 and produces a saving of 2-3 watts over our standard 404.
This is the must have wheel for the dedicated TT specialist. Released in tubular and clincher versions with internal nipples and Zipp's new Carbon Bridgeâ"¢ technology, this wheel is destined to quickly find its niche among the podium champs.
Specs
Front 16 spokes, rear 20 spokes, internal nipples
Max rim width 27.5mm
Brake track width 21mm
Rim depth 108mm
Weight: front 774 grams, Rear 894 grams (tubular)
Price: £1,650
by ZIPP.com from Cycle-World.co.uk
Carbon Bridge Technology
,
Carbon Fibre
,
Clincher
,
Cycle-World.co.uk
,
Manufacturers
,
Products
,
Tech Info
,
Torodial rim shape
,
TT specialist
,
Tubular
,
Wheel Set
,
Wheels
,
ZIPP
,
ZIPP 1080 extra deep wheel set
,
Zipp.com